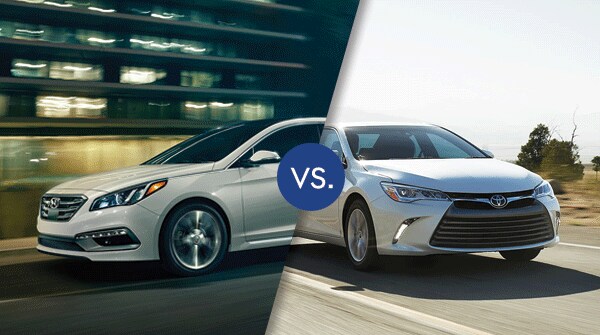 When looking for a midsize sedan in Brockton, the options may seem endless. It's a competitive market, and most automakers have solid choices. But when comparing the all-new Sonata to the Toyota Camry, you might be surprised to find which one has the edge.
The Sonata is a bit of an underdog, but it stands up to its popular rivals and even surpasses them in some areas. Plus, it's an excellent value. Here's our side-by-side comparison of the
2017 Hyundai Sonata
and the 2017 Toyota Camry.

Safety Hyundai Sonata
The 2017 Sonata earned a best possible 5-Star Overall Rating from the National Highway Traffic Safety Administration, getting perfect scores in crash tests for side and front impact. The Sonata comes equipped with multiple basic safety features, plus standard rearview camera, blind-spot mirror, electronic brake assist, stability and traction control, and seven airbags.
Toyota Camry
The Camry was similarly given a 5-Star Overall Rating from the NHTSA, though it received just four out of five stars in tests for frontal impact. It has stability and traction control, anti-lock brakes, 10 airbags, and backup camera. If you're willing to pay extra, you can add blind-spot monitoring and lane-departure warning.

FeaturesHyundai Sonata
There's a whole array of features to choose from with the Sonata, as it's highly customizable, but standard features include an infotainment system with 7-inch touchscreen display, USB port, Bluetooth and smartphone integration, air conditioning, power locks and windows with pinch protection, and 60/40 split folding rear seats. You can also add a 10-speaker Infinity sound system, smart cruise control, panoramic sunroof, and a hands-free trunk release.
Toyota Camry
The Camry comes standard with backup camera, 8-way power adjustable seats, infotainment system with 6-inch touchscreen display, AM/FM/CD player, USB port, and smartphone integration with Apple products only. Premium options include JBL audio system, heated leather seating, and moonroof.

Engine OptionsHyundai Sonata
Personalization is where the
Sonata
truly outshines its competition, particularly when looking at engine options as you can choose between five drivetrains, including two hybrids.
The base model is a 2.4-liter inline-4 with 185 horsepower, while the Sport model features a 2-liter turbocharged inline-4 with 245 horsepower. The Eco trim level has a 1.6-liter turbocharged inline-4 with 177 horsepower. The Sonata Hybrid is equipped with a 2-liter inline-4 combined with an electric motor that has 154 horsepower and gets 39 MPG highway and 45 MPG city. The Plug-In Hybrid model has the same engine, and an electric-only range of 27 miles.
Toyota Camry
The Camry has three engine options: a base 2.5-liter inline-4 with 178 horsepower, a 3.5-liter V6 with 268 horsepower, and a hybrid model with a 2.5-liter engine inline-4 and gas-electric motor.

PricingHyundai Sonata
Starting at $21,600 MSRP
Toyota Camry
Starting at $23,070 MSRP