Return Your Lease in Brockton, MA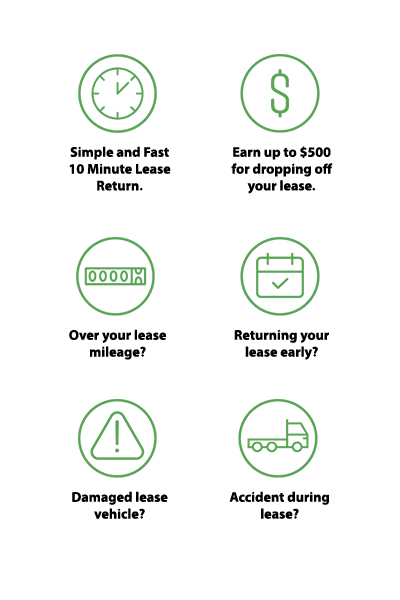 How Can We Help?
* Indicates a required field
Your Options at the End of Your Lease
Drivers in the Boston area who need to return a leased car can choose from a few options. And no matter what you want to do at the end of your lease, McGovern Auto Group is here for you. Here are the options available to our customers locally and beyond:
We Make the Return of Your Leased Vehicle Easy
 1. Simply complete the online form below and make an appointment to return your vehicle to the dealership.
 2. Upon arrival at the dealership (bring all sets of keys), our lease end specialist will perform a brief inspection, print the necessary forms to sign and you'll be on your way in minutes.
 3. Take advantage of the McGovern Lease Loyalty Rebate ($500) towards the lease of one of our latest models.
 4. You can also use the $500 MAG Lease End Credit towards remaining lease payments, over mileage, or damage on your leased vehicle.
We Make the Lease Buyout Process Easy
1. Simply complete the online form below and make an appointment to visit the dealership.
 2. We will determine your lowest possible buyout value and actually pay the residual or buyout amount on your behalf.
 3. We can arrange financing for you or you can pay cash for the vehicle.
 4. We offer certification on your vehicle as well as service contracts to protect against future repair costs now that your vehicle is beyond the manufacturer's warranty.
 5. We offer free multi-point vehicle inspection to determine if your vehicle requires any recommended maintenance or repairs now that you're going to own your vehicle.
 6. We will secure the vehicle's title from the leasing company, complete all paperwork to title the vehicle in your name as well as arrange registration and payment of sales tax for your purchased vehicle.
 7. Complimentary inspection sticker once your vehicle is State inspected and you'll be on your way with your now owned vehicle.
We Can Find the Best Solution for a Lease Extension
Frequently Asked Questions About Lease Returns
 What are my lease end options?
End the Lease: You can choose to visit one of our locations, and you can turn in your leased car. One of our specialists will do a quick inspection and can get you on your way.
Lease a New Car: When your lease is up, you can turn in your car and take advantage of a McGovern Lease Loyalty Rebate toward your next lease. You can explore our extensive inventory to find the next SUV, sedan, or truck you want to lease.
Lease End Purchase: If you've been enjoying driving your current leased vehicle around Westwood or Norwood and you'd like to keep it permanently, we can help you purchase it. We can help you through the process of having the leasing company turn over the title, and we can also offer a free inspection to determine if your vehicle is due for maintenance.
Lease Extension: If you think you'd like to drive your leased car for a little bit longer, our financing team can help you understand your options for extending your lease.
What do I bring to the dealership?
Keys
Owners Manual & Vehicle Registration
Drivers License
Inspection Report (if applicable)
Lease Agreement (if applicable)
Do I have to turn in my vehicle at the dealership I leased it from?
No! We at McGovern Automotive Group can take your lease regardless if you leased it from us or not!
Get in Touch
We encourage you to use one of our locations in Massachusetts (along the Automile), New Hampshire, or New York to return your leased car. We have 24 different locations throughout these three states that offer various vehicle brands, so if you're looking to return your leased vehicle and start driving a Subaru, a BMW, a Porsche, or any of our brands, we can assist you. Disclaimer: Lease Buyouts do not apply to Ford/Lincoln Leases in the last 120 days of the lease. Lease buyouts do not apply to Nissan, Infiniti, Volvo, or leases with Ally Financial. Up to $500 will be applied based on condition of the vehicle
Disclaimer: Lease Buyouts do not apply to Ford/Lincoln Leases in the last 120 days of the lease. Lease buyouts do not apply to Nissan, Infiniti, Volvo, or leases with Ally Financial. Up to $500 will be applied based on condition of the vehicle